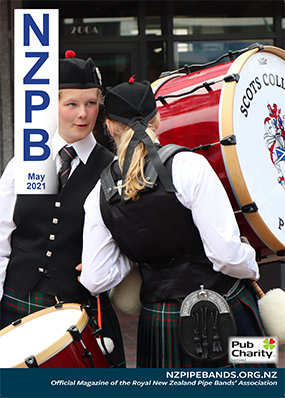 NZ Pipeband Magazine is published quarterly, on about the end of February, May, August and November.
Subscription rates:
$NZ 25.00 delivered in New Zealand
$NZ 35.00 delivered in Australia
$NZ 45.00 delivered elsewhere
The May 2021 edition is now out and offers something for everyone
The magazine includes:
Features:
National Contest 2021 - a full report of the weekends events

The Leading Edge - Nicole Ecklein on leafding a band (and more)

Alan and Bonnie Bevan - Simon Fraser University. 20 years on.
Pirates of Kapiti Coast


Life membership award.
Plus regular columns:
Previous features:
If you're looking to contribute content to the magazine (this is always welcome), download the
Contributors Guide