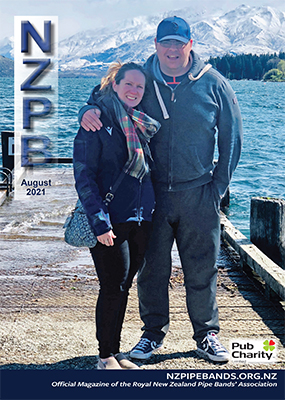 NZ Pipeband Magazine is published quarterly, on about the end of February, May, August and November.
Subscription rates:
$NZ 25.00 delivered in New Zealand
$NZ 35.00 delivered in Australia
$NZ 45.00 delivered elsewhere
The August 2021 edition is trapped in print as our (hopefully) brief lockdown is in place.
The magazine includes:
Features:
Sandy Geyer talks to super stars Kyle Warren and Steven Shedden on the creative process of music writing.

Callum Gilchrist - the man behind the band. Nicole Ecklein sits down with Callum for a tete-a-tete

Our newest legend - the life and times of Ali MacKenzie This article is available for download
Pirates of Kapiti Coast - the story continues


The longest service, or can this story be bettered?
Plus regular columns:
Previous features:
If you're looking to contribute content to the magazine (this is always welcome), download the
Contributors Guide